Have you noticed the Digital Academy tab in your catalog search results? This is a collection of online learning resources from more than 1,000 programming partners.
If you click the tab in your search results or the icon

in the catalog, you'll be taken to a complete list of all available online learning resources.
You may also choose "Digital Academy" from the first search bar dropdown.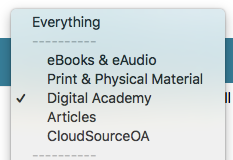 From there, you can narrow your results list by searching, or by choosing from the following filters:
Subject
Language
Digital provider
Digital level
Digital type
When you find a learning resource you want to explore, follow the "Link to Content" to open a new window hosted by OER, Udemy, or possibly edX. You may be asked to create a login for the various hosts in order to track your progress through the learning resource.
PLEASE NOTE: These online learning resources are free. If you find resources which ask you for a payment, please let us know.
---
Still have questions? You can Get Help Using FVRL's Online Resources.