A new library for Woodland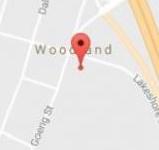 FVRL is working to build a new home for Woodland Community Library that will provide more materials, resources, ADA accessibility, internet and computer access, and additional space for meetings, study, programs and workshops.
What's happening?
We have property and a conceptual design. Follow along in the slideshow!
Project news
December 2021: Woodland Community Library has been on hold since late 2020 when the budget estimate for the 12,000 square foot library was over $7 million, nearly $2 million over our proposed budget. Cost drivers were primarily site work, as the land is extremely sandy and will require substantial remediation to allow for construction. FVRL commissioned a review of the building program in June 2021 to look for areas where we could reduce the overall cost. After talking to the community for several months, it was determined the best course going forward would be to reduce the overall size.
It was decided at the December 13, 2021 Library Board of Trustees meeting to go forward with the project at a reduced size. Over the past year, a number of critical opportunities have developed including a $2 million Library Capital Fund grant from the Washington State Legislature that has a limited window for expenditure of two years. Going forward with a smaller (approximately 7500 square foot) building will allow FVRL to bring a new library to the community and reserve the opportunity to expand it in the future when more funds may be available. Work on the redesign process will begin early in 2022. Join us for an update on progress at the April 23rd Love Your Library event!
How you can help:
Check for upcoming fundraisers.
Invest in the new library - gifts of any size are gratefully accepted by the Fort Vancouver Regional Library Foundation.
Join or support the Friends of Woodland Community Library and help with fundraisers and library promotion.
Project timeline:
2021

2021: Woodland Community Library received a Library Capital Improvement Grant for $1,030,000 in the Washington State 2021-23 Capital Budget.

2020

February 2020: Hacker Architects presented conceptual designs and siting alternatives for the building on at the Love Your Library event on February 8 and at the public meeting on February 11.

2019

December 2019: We hold a "Meet the Architects" session to gather community input.
October 2019: We selected an architect, Hacker, to do the conceptual design for the new library.
June 2019: The FVRL Board of Trustees has moved $450,000 from its reserve plan into the Woodland building project fund.
The Honorable Frank and Arlene Price Foundation awarded a $25,000 grant to Fort Vancouver Regional Library Foundation toward the construction of a Woodland library.
The 2019-2021 Washington State budget includes a $515,000 grant for Woodland Community Library.
After being used as a training site for fire and police personnel, the former Woodland Funeral Home building was demolished in February.
A traffic study was completed to determine needed adjustments at the new library site.

2018

The Woodland Funeral Home moved to its new location in Park Plaza at 660 Goerig, opening the way for the library site to begin development.
FVRL hosted an asset sale to sell fixtures, doors, windows and other salvageable items from the building.

2017

We have land! On May 19, FVRL closed on property at the corner of Goerig Street and Lakeshore Drive near downtown Woodland (see map).
Fees lowered! Many Woodland residents (those in Cowlitz County outside the city limits) live outside of FVRL district boundaries and must pay a fee to get a library card. In May, FVRL changed the formula used to charge non-resident fees, allowing individuals to purchase a library card at lower cost. The library is also offering free 3-item library cards for minors so that all children and students, in district or not, have access to library resources.

2013-2016

FVRL Trustees set aside $1 million for the building project.
FVRL worked with community stakeholders to find suitable property.
At the same time, the Friends of Woodland Community Library began fundraising.
October 2014: A Pre-Design Study by FFA Architects, with input from the communities involved, recommended library square footage and features and included projected possible costs.
December 2013: A facilities study by BergerABAM identified the need for new library facilities in Woodland, Ridgefield and Washougal.
Documentation
In the news

Letters of Endorsement