The newest cars often come with Bluetooth connectivity, which allows you to listen through the car's stereo system to audiobooks playing on your phone or MP3 player. However, if your car doesn't have Bluetooth capability (and you don't want to spend the money for a special adapter) you can still listen to audiobooks through the stereo speakers. There are a couple of options that don't cost much or require a lot of technological know-how:
Cassette Adapters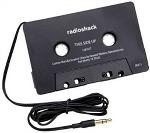 If you have an older car that has a cassette tape player, you can use a cassette adapter, which works by fooling your car stereo into thinking it is playing a tape.
To use one of these, you put the cassette in the car stereo and plug the connector end into the headphones jack on your device. Turn the stereo on and press play on your device, then turn the stereo volume up until you hear the audiobook through your car speakers.
Auxiliary Input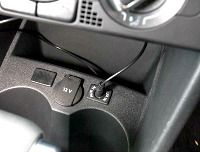 Newer cars have an auxiliary port. These act like a headphones jack for your car, which is why the connector cable you need—a "male to male stereo aux cable"—looks like a headphones cord with a plug at each end.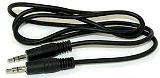 Plug one end of the cable into the auxiliary port in your car, and the other end into the headphones jack on your device. Next, look on the car's dashboard for a button marked "AUX." Push that, then open the audiobook on your phone or MP3 player, and press play. Turn the stereo volume up until you can hear the audiobook through the car speakers.
---
Still have questions? Get Help Using FVRL's Online Resources.